It's ski season, so we thought we'd share a few of our top merino wool products that may come in useful both on the slopes and apres ski.   As fans of natural fibres, we don't just love wool in our bespoke suits, and merino wool is one of the most versatile and useful fabrics to don during the winter.
1) Socks
Toes see lower circulation and we often forget to keep feet warm and comfortable – especially if you're breaking in a new pair of shoes after your existing pair have been worn down over the winter so far.  Also given we know that british winters include torrential rain or melted slush which can get feet wet your best bet is to swap cotton socks for merino wool – which are faster drying and sill retain their insulating quality when wet!  The Wool Company have a range of suit friendly merino wool blend socks in classic black, as do Marks & Spencer.
2)  Base layer
We've lauded the sweat wicking, temperature regulating properties of merino wool and why it is one of the best fabrics you can wear next to your skin in our articles about fabric choice, and layering- so it may come at no surprise that base layers make our shortlist of top 5 merino wool products.  There are lots of options available from outdoor stores like Cotswolds Outdoors.  These base layers are especially good if you're planning on engaging with any winter sports (hiking, cross country skiing, downhill skiing, snowmobiling, Northern Lights gazing, sledging etc) – but also will layer invisibly under your bespoke suit.   Get your foundations right and keep warm with a merino wool base layer.  Helly Hanson do many and are a mainstay for skiing, but cold water surf company Finisterre has a suprisingly large selection in all kinds of colours and styles – they are presentable enough to wear on their own too, not just hidden under suits and other layers.
3) Fleece jacket
A great mid layer if very cold, or something to throw on over your sports jacket for a more casual look instead of a bespoke overcoat.  You might think that fleece jackets tend to be solely made from synthetic fibres – not so – Icebreaker have a range of soft, anti stink merino wool brushed fleece jackets in designs that work well for casual wear too.
4) Sweater
Sweaters layer nicely under a bespoke suit or sports jacket, perfectly acceptable during winter.  Also looks good on its own or over a shirt (very handy to hide the odd wrinkle – or unfortunate coffee stain – it happens to the best of us, although for how to get rid of the stain more permanently  may we recommend Jeeves or some of the techniques in this video…)  This old favourite is a staple in our casual winter wardrobe, and pairs very well with a sports jacket for apres ski style.
5) Scarf / gloves / hat
Cold air has a remarkable knack for getting in anywhere to thieve warmth.  We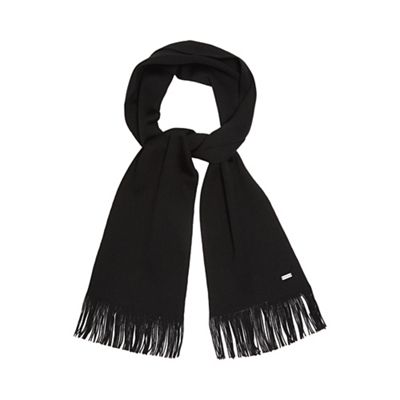 find it helpful to seal off any gaps.  It's easy to forget that cuffs and collar openings invite unwanted cold breezes. As such keeping a scarf and gloves – in merino wool, naturally, can come in very handy.  A soft merino wool scarf is also less likely to irritate skin round the neck and chin area that may already be sensitive from shaving and the cold.  Soft and thin wool gloves that still insulate fingers means you won't lose as much dexterity than say, wearing leather gloves. Go for ones with smartphone compatible finger pads if like us you need to be connected on the go at all times.  They say we lose half our body heat through our heads.  Stop the leak with the British merino wool "Tumet" beanie by Finisterre.

What to wear for Apres Ski?
Most ski resorts are very casual but that is no reason to blunt your style.  Our top tip for a stylish apres ski look – and something that would perfectly finish of all of the above (socks, base layers, sweater, accessories like scarves and gloves) would be a trusty bespoke sports jacket.