These are some of the Henry Herbert team's "Top 5 Valentine's Day gifts for Him" – or indeed, Any Day gifts for the modern gentleman!
1) These innovative magnetic collar stiffeners by Stiffies. 
The company says: "The idea started when its founders dress code changed at work. Ties were no longer needed, however they still had to look smart. After a couple of months they became increasingly frustrated – even with collar stiffeners their shirt drooped below their suit jacket and they felt they lost their mojo. So with this they came up with the idea of magnetic collar stiffeners, that not only kept your collar stiff, but most importantly kept it upright."  We think they are brilliant!
2)  Colourful watches by Nixon – sleek, summery, and they won't break the bank.  There are 27 colours to choose from – almost one for each day of the month of February!  Why stop at just one?
3)  Mr & Mrs Smith boutique hotels "Get a Room" voucher.  
Mr & Mrs Smith have done all the hard work for us by curating – hand-picking – a selection of the most remarkable – and characterful – boutique hotels in the world.  The Mr & Mrs Smith team have personally visited and anonymously reviewed each location and applied their exacting standards in their selection process.  There is something to suit every kind of holiday you can imagine.  And this means the both of you get to enjoy the treat….
4) Rimowa "Topas" cabin bag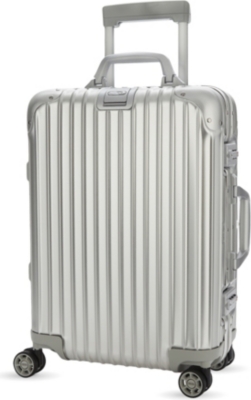 Whilst we think a stylish leather holdall or carry-all can seriously up the style stakes and handsomely complement a bespoke suit, there are just some times when a gentleman doesn't want to hoist all that heavy luggage around (when making the trek from one end of Heathrow to the other).  Enter the sleek aluminium Rimowa, with its signature "go faster" grooves.  Swivelling silently on four wheels, this remarkably sleek piece of travel engineering will follow quietly in your hand, distinguished and uncomplaining, around the world like the most loyal of canine friends.  We are huge fans.
5)  Henry Herbert bespoke suit voucher
A Henry Herbert Gift Voucher for one suit lets the recipient create their own very own tailored English suit, from the finest English & Scottish wools. Our perfectly tailored hand-crafted suits are made in England and our tailors will guide them through all the choices, styles and fabrics available. You can personalise the message inside the card too.
Happy Friday / Valentine's Day!